Please be aware as a parent or carer the content of this may be upsetting or could bring up personal issues for yourself. Support is available for you via your GP or you can contact the Samaritans at any time by Freephone on 116 123.
Self-harm can be a hard subject to talk about but it's important to understand a little more about what it is, what to look for, where you can find out more and get help and support.
Self-harm is something very individual but generally it is the act of deliberately causing harm to oneself either by causing a physical injury, by putting oneself in dangerous situations and/or self-neglect. This can include things like cutting, burning, pulling hair out, eating disorders and picking and scratching.
Reasons why people self-harm are also as individual and varied as the act itself and can include bullying, stress and low self-esteem. It is usually done as a way of coping and physically expressing feelings when a person struggles to communicate with others. Often the act of self-harm is very private and where this is done as a physical injury to oneself, people who do it will go to great lengths to hide it.
Some of the things to look out for include:
Unexplained burns, cuts, scars, or other clusters of markings
Arms, hands and forearms opposite the dominant hand are common areas for injury
Inappropriate dress for the season, eg. consistently wearing long sleeves on hot summer days
Constant use of wrist bands or similar coverings
Unwillingness to take part in PE, sports, swimming
Unusual or inexplicable paraphernalia (blades, other implements, inappropriate medication)
Heightened signs of anxiety and/or depression
If you do discover your child is self-harming it is common to feel anxious or worried, angry or blame yourself but there are a number of things you can do or avoid doing to help them.
Firstly, try to stay calm and open up the opportunity for them to talk about it if they want to. Making them talk about it or telling them you will take them to get help is not helpful. This is because it takes away their control about the situation which may make them withdraw from you.
Don't tell them they just need to stop it or make them promise never to do it again. Offer ideas of distractions that they could do or you can do together like watching a film or going for a walk if they would like. There are more ideas for distractions and things to do to support your child on the National Self Harm Networks website.
Importantly, don't take it personally or try to deal with more than you can without help. Dealing with this can be draining on a daily basis and it's important to keep an eye on your own wellbeing too.
Finally, try to find out as much about self-harm as you can. The resources listed below include lots of information and guides to help you as well as details of where to go for more help. Although officially between 8 and 10% of teenagers will self-harm at some point, the reality may be much higher as it can be very private. By encouraging your child to not view it as something to be kept secret it will help improve understanding and help with getting support.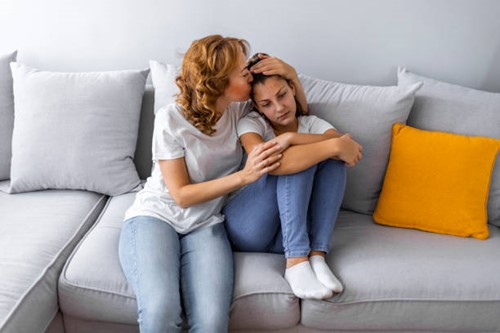 Useful links:
The biggest concern people have about mental health is the stigma they may face if they are open about their mental health.
As 1 in 4 people have a mental health concern, we all know someone who has one. By having more open conversations we can help reduce the stigma and help people access the support they may need.
Useful documents:
Supporting Young People with Suicidal Thoughts
Last updated: 12/4/2022