About
The Wakefield Special Educational Needs / Disabilities (SEND) Local Offer makes a newsletter. It is called News & Views and it goes out three times a year. 
It has information about different conditions, support groups, services and advice. 
It is for children, young people, parents, carers and professionals.
You can get it through the post, by email or it can be downloaded from this page. Click on the 'How To Get My Copy' tab at the top of this page to find out more.
If you have a good idea for the newsletter or would like to write something for it you can email us at wakefieldlocaloffer@family-action.org.uk
Download our latest newsletter -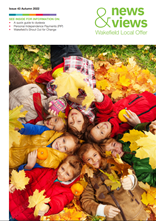 Have Your Say!
We would like your views on this newsletter. Complete this survey about the Spring newsletter to help improve future newsletters. Thank you!
If you missed out on the back issues of the newsletter or would like to read a copy one of the articles again, all the issues are available to download below.
Features Advocacy from Barnardo's CAPs, transition top tips, frequently asked questions about ADHD, Gender and sexual identity information, Wakefield Council Inspection, Disability Living Allowance and sensory planet information.
Autumn 2021

Features the new Autism Spectrum Disorder (ASD) section on the Local Offer, the Royal Society for the Blind (RSBC)'s Family First Service, Distance Learning Workshops from Wakefield Early Support Advice Information Liaison Service (WESAIL), the Cultural Cohesion Quality Mark, Pathological Demand Avoidance (PDA), Kid Squad Quiz, What is PANS / PANDAS?, Educational Health Care Plans (EHCPs), Penderels Trust, Young Carers Groups and Max Card information.
Features the new SENDIASS worker, Kid Squad's Top Tips for Being Happy and Healthy, common acronymns, Wakefield Families Together, Deaf Ex-Mainstreamers, Foetal Alcohol Syndrome, That Makes Sense, Access to Community and employment (ACE) from Camphill Wakefield, Open Country, Max Cards.
Features the new duty worker, Wakefield and District Society for Deaf People, Wakefield's new SEND Strategy, Barnardo's new SENDIASS website, Reasonable Adjustments in Education, Child and Adolescent Mental Health Services (CAMHS), Pathological Demand Avoidance Strategies, ECHO Community Programme, Preparing for Adulthood Through Aspire-igen, Max Cards.
Features the new Local Offer Lead, the new Supported Employment and Preparation for Adulthood Coordinator, Wakefield Parent Carer Forum, West Yorkshire Attention Deficit Hyperactivity Disorder group, Wakefield Autism Support Project, sensory integration, Pathological Demand Avoidance (PDA), dyslexia, stress top tips, bereavement, loackdown success stories, Sustain housing support, 50 Things to do before you're 5 app, Wakefield Information Network, Wakefield Toddler Sense. 
Features Children's First Hubs, family life in lockdown, dealing with stress, supported employment programme at Camphill Wakefield, stammer support, sensory stay and play, KIDS update and apprenticeships.
This edition features the Council's consultation on Short Breaks ending January 2020, meet our WESAIL volunteer, Young People's Advisory Group to join, details of training and advice sessions available, Family Fund, music group Let's Shine, Wakefield Flyerz, information from Irwin Mitchell and things to do.
Features the new Inclusion Worker in WESAIL, changes to the Blue Badge scheme, latest from Wakefield Parent Carer Forum TEAM, information and resources about self harm, taining and advice sessions for parents/carers and Things to do
Features a request for volunteers to become Local Offer Champions, Parents and Carers Corner, Wakefield Parent Carer Forum TEAM, resources for Carers, Gender Identity and support groups locally, Bullying resources, training courses for parents and carers, expansion of the Sunflower lanyard scheme for invisible disabilities and Things to do.
Features Post 16 Team, National Apprenticeship Week, Bookstart, Parent Participation News, Latest on the Joint SEND Inspection, Young People's Voice, Things to do, Easter Fun and Max Card upper age limit increase.
Features Joint SEND Inspection, Things to do, Parent Participation News, You said.. We did..., Shaping Local Services, Family Fund and Anti Bullying Week.
Features Summer Play schemes, Money Savers, Parent Participation News, Things to do and Tips to survive the summer holidays.
Features Local Offer Live feedback, Things to do, TEAM Wakefield Parent Carer Forum, Support for Parents and Carers, Having your say about the Peer Challenge and how services and people working with children and young people with SEND can respond in more helpful ways.
Features the Future In Mind, Local Offer Review feedback, the Inspirations and Aspirations of young people and Learning to Fingerspell.
Features information about Joint Inspections of Local Area SEND Provision, Special Needs Clothing at M&S, Holiday Tips for children and young people with autism, Holiday Learning Fun and Information and Advice Sessions for parents and carers.
Features Personalisation, Local Offer website, Activities and things to do, Early Help Hubs and SEND Children's Centres and WANDS, the Council's Network for Disabled Staff.
Features VIP card and My Health Passport, Learning Disability Acute Hospital Liaison Nurse, Wakefield People's Charter, WF Youth SEND clubs, Signed Stories, Local Area SEND Inspection consultation, SEND Festival, TEAM Parent Conference and Stages of the Assessment Journey.
Features Seaside in the City, Designated Keyworker at KIDS WESAIL, YoungSibs service, Independent Supporter service at KIDS WESAIL, Personal Outcomes Evaluation Tool (POET) Survey, Barnardo's CAPS and Information and Advice Sessions for parents and carers.
Features Local Offer website, Cinema Exhibitor's Association (CEA) card, Education Health and Care Plans, KIDS and Special educational needs and Disability Information, Advice and Support Service (SENDIASS), Laila Milly Foundation, TEAM Parent Carer Forum, Caudwell Children, WF Youth and Run Riot at the Addy
You can get your free copy by signing up to the Wakefield Information Network (IN).
The IN is also the Disabled Children's Register which the council has a statutory duty to have and keep up to date. The register is voluntary for families to join but helps inform decisions about new and existing services across the Wakefield district.
Practitioners who work with families with children and young people with additional needs can also sign up to the IN to receive an email copy of the newsletter.
Last updated: 12/4/2022